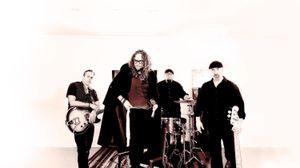 "Black Cat Moan is fast rising into something unique and special on this area's music scene. If you haven't seen them in a while or have never seen them, get out and discover what these cats have to offer. You won't be disappointed!"
— Jim Price, PA Musician Magazine
Monica Cervone McElwain - "Cervone Photography"
Black Cat Moan writes music to move your body and awaken your mind. Music with an eccentric and authentic groove. Born of the blues and raised by rock and roll. 
A guitar-driven sound crafted by musicians who have paid their dues on and off the stage. Four souls driven by a common fire to embrace their journey. Right here. Right now. And to share this fire with those who are looking for more than just a musical hook or lyrical cliché. 
T.K., Saint George, Dr. J., and Bones are Black Cat Moan. Discover their music. Discover the true.